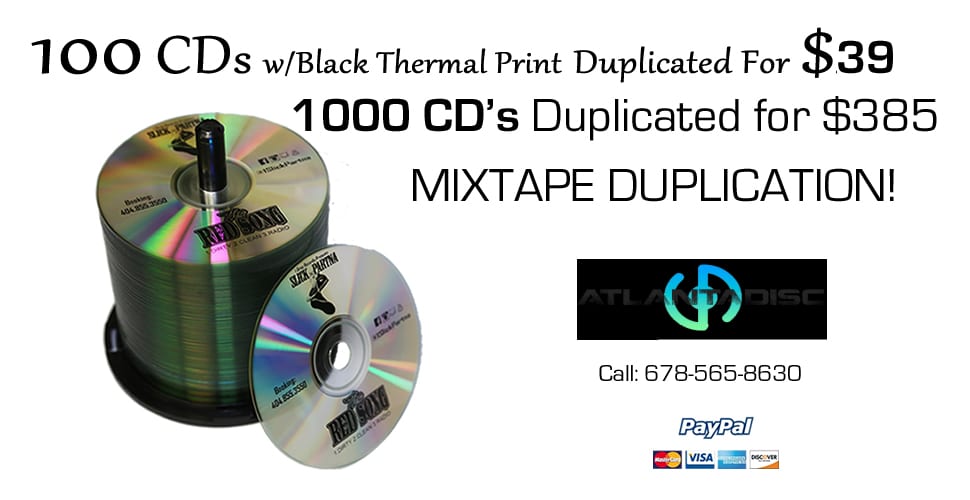 500 CD's Duplicated for $195
If you need 500 bulk CD Duplications we offer that package for $195. We ship all over the USA with Fedex and USPS.
CD duplication is ideal for small orders of less than 500 units,we start at 25 units and run up to 5000 units.  as it offers a fast turnaround of high quality, this is great for rappers and bands, uncompromised discs that are perfectly suited to your requirements.
If you require over 500 copies of a CD, then our CD Duplication service is great for you. More cost effective than other methods when dealing with large quantities of discs, CD Duplication CD burning technology in order to achieve top quality results with every CD.
Includes thermal print, No limit on words, add logos, twitter, facebook, info etc.
Quick turnaround time. shipping available anywhere in the USA and Puerto Rico.
Feel free to call us at 678-780-1722 or email us at [email protected]
Choosing CD Duplication For Your Project
If you need 500 units or less to suit your project, our CD duplication services in atlanta offer superior sound quality coupled with outstanding customer service and fast turnaround times.
We know that the data or music you want encoding and burned onto discs is often vital to your business or music project, and our professional approach to all of our clients ensures that you will be completely confident in the service and production that we provide. To make certain that all of our discs are resilient and of a uniform quality, we use high quality compact disc in our manufacturing service, and each and every batch undergoes strict quality testing.
Our process is carried out using cd duplication towers. Each tower contains a bank of up to 15 separate CD duplication drives, which are similar to the units found in your own home or office PC allowing for a fast and smooth process.
Depending on your project, we will use as many or as few towers together as is required to duplicate your job depening on how many CD's you are trying to  do.
Bulk with
Black Print
Quantity
Price
25
$15
50
$25
100
$39
200
$78
300
$117
400
$156
500+
$195
Large Quantities Call For Prices. All Jobs are Thermal Print
Atlantadisc.com
678-780-1722