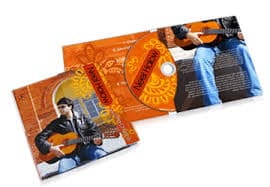 Reasons to Choose Eco Wallets CD Duplication
If you are looking for CD duplication packaging options, then Eco Wallets will definitely figure in your consideration. Eco Wallets are among the most popular packaging styles for record labels, recording artists, independent producers, distributors and companies that cater their product or service to their audience through CDs and DVDs. Eco Wallets for CD duplication are affordable, reliable and trendy. They are in vogue and ideal for branding. They are super lightweight so shipping costs are contained, in addition to the already reasonable pricing.
The first reason you should choose Eco Wallets for CD duplication is obviously the price. Jewel cases cost more. Digipaks are a viable alternative but Eco Wallets bring in their advantages with additional styling options and without the brittle plastic. Anyone would want to communicate with their audience, fans, clients or employees with élan and there is a subtle imaging that goes into play in every branding strategy. Eco Wallets tick multiple checkboxes.
Eco Wallets are simple, utilitarian and easy to deal with. No one wants a complicated logistics exercise. The objective is to get the goods or services delivered to the intended recipients as soon as possible and in a manner that reflects the quality any company or individual stands for. The compactness of the package, the various options to personalize the design and even choice of materials make Eco Wallets practical and unique at the same time.
Eco Wallets for CD duplication can come with free coating. You may opt for gloss or matte coating on certain qualities of material, albeit influenced by the design you have chosen and the bulk or quantity of your order. There can be other freebies or included add-ons for specific bulk orders.
Eco Wallets come with multiple panels. You can opt for four or six panels and single or dual pocket. You can opt for full color on the disc, blank text or no print at all. You can choose uncoated card stock, matte or gloss. There are multiple insert options, from two panels to two dozen pages. You can choose silver or white disc duplication and get a shrink wrap if you want. You can add posters, barcodes and other elements of customization. You can have Eco Wallets for CD duplication ready for you in two to seven business days. The quick turnaround time is useful for companies with shorter or urgent deadlines. All you need to do is choose the right expert with the capacity to deliver the quality and quantity you need.