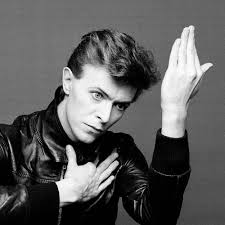 By Brenda Barbour
We just lost an icon in David Bowie.  He was an entertainer who always made a statement with both his music and his appearance.  This fact gained him a well deserved place in the Rock and Roll Hall of Fame in 1996. After five decades of various personas, the world never knew what to expect from David's next reincarnation. In the 60's he was a  Davie Jones look-a-like; in the 70's,  he was Ziggy Stardust; in the 80's, he was the new Romantic; in the 90's, he was a clean cut pop star who married Iman, the top fashion model.  He began the 2000's with some major life events.  In August he became a dad for the second time and in June 2004, he had a heart attack.
He recovered from a blocked coronary artery after receiving an angioplasty in Germany. Afterwards, he kept a low profile for a year, but he was back on stage performing a year later and he's been performing ever since.    During his 50 year career he recorded several sound tracks and 27 studio albums of which nine singles hit number one on the United Kingdom's charts.  He performed 22 acting roles, for which he received one Saturn Award for best actor and one MTV Award.  And finally, his last album, Blackstar was released on his 69th birthday, January the 8th, 2016, two days before his death.
The Blackstar music video is hauntingly eerie with its lyrics and imagery referencing death so soon after the demise of its creator.  Listen only to the instrumental track and the music is mellow and somewhat soothing.  Listen carefully to the lyrics and you'll hear, "Something happened on the day he died, spirit rose a metre and stepped aside, somebody else took his place, and bravely cried: (I'm a blackstar, I'm a blackstar)".  Yet, another tune from the album is entitled, Lazarus, the name of the man Jesus raised from the dead.  It makes you wonder, did David Bowie have a premonition about his own death?
He battled cancer for 18 months until his untimely demise.  Yes, he was 69, but anyone who loved David Bowie, is going to feel he left us way too soon.  Each time we hear one of his songs: Let's Dance, Under Pressure or China Girl, just to name a very few of his beloved tunes, we'll dance and we'll remember David Bowie.   Nevertheless, it's sad to see him go.  We enjoyed the entertainer who left an indelible mark on us, making it possible for us to always recall the remarkable transformations he assumed and the ingenuity of his music.